Finally, I have pictures to share of Summer Gathering!
It was an overcast, and muggy day.
I love love love the green binding!
Whew, the decision was tough. Thank you to those who weighed in on that :)
Honestly, the color is a bit more yellow and brighter than the sage looking tone in the photos! I like the utility-looking character it adds, and as a frame, it did not distract from the big bloom.
How she came to be
:
I came home from a local fabric swap in Fall 2014 with an old kit made up of 100's of pre-cut squares and HST's. There was no pattern included, but I figured I could just start sewing and come up with something. The price was right, basically thrown in with another purchase, and I get a real thrill using fabrics others may not. I pieced the HST's over a two or three month period, mostly as leaders and enders, and had still not considered layout when those were completed. I began to play with basket forms first, then Bear Paws, then expanded the Paws all around as you see in the end result. Unusual for me, I named the quilt almost immediately upon finishing the layout.
Gathering fabric
:
I first posted about Summer Gathering in May 2015, and
pictured on my design wall during construction
. I wanted the quilt to be over 60", and I was running out of the background variety of neutrals. I also wanted to add that last border around the perimeter, another 124 squares. The post was a call-out to help "save the fabrics", and I received wonderful response. Several quilter's shared exactly what I needed, from their stash! In this respect, Summer Gathering was put into action, quite literally, and quilty friendships ensued as well!
Thinking of Kristen :)
Her future home
:
I have such a hard time sometimes, matching quilts to recipients! Throughout the process, I thought frequently of my niece, Kristen. I am fairly certain this is not what she would actually choose for color/style. Something modern and bright would have been fun to gift her, however she is a traditional woman at heart and I could never shake the feeling that this is her quilt. It
is
a modern and bright quilt after all, made with traditional technique and vintage style! I hope she enjoys it!
Backside Stash-buster
Kind of Swoon-like
Quilt Stats
:
Finished Size: 63" Square
Pattern: Original Design. This is my second finish in this pattern, however it is the first one that I started! I photographed
Winter in Bloom
in the same location, on a sunny day!
Fabric: Unknown origin: vintage calico's
Backing Fabric: vintage from stash, used wrong-side-out.
Binding Fabric: Moda Marbles from stash
Batting: Warm & Natural
Quilting Thread: Aurifil 2021, 50wt
Free-Motion Quilted on my Juki TL 98E
Pieced and Bound on Old Bernie, a 1020
I'll be linking this finish with a few of my favorite Finish Parties!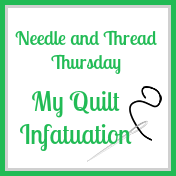 Kelly's linkup has been postponed while her home recovers from lightening(!)
Sarah is dancing a Christmas jig at Confessions of a Fabric Addict!
This quilt was my June goal for OMG, and today is the last day to
link up
our finishes!
Thank you so much for reading today!
OMG: Goal-setting for July begins tomorrow!